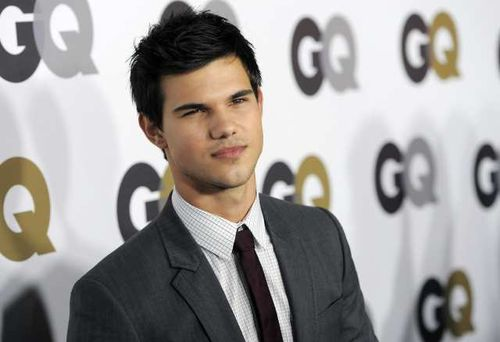 Taylor Lautner Talks About Twilight Fans, His Rock Hard Body & Much More in the latest addition of Parade magazine. During his interview the 19 year old talks about trying to have some down time and even about his character Jacob. During "Breaking Dawn: Part 1″ Jacob's heart will be broken and Lautner reacts to that, "The first time I read Breaking Dawn I was really surprised. Stephanie Meyers sent it to me and I was turning the pages and I'm like, 'Is Jacob going to end up with Bella or not?' I finally get to the chapter where he's with Bella's baby and that was a shocker for me. It kind of took a while to get used to that idea."
Lautner started extremely young when he began filming the "Twilight" saga and for being that young his body was amazing. During the long days of filming Lautner had to still find time to eat right and work out and he basically suffered to look that good. He tells the magazine, "I had people bringing me food and shoving it in my face, saying 'Eat Taylor!' They sort of had to force me. Then I had to get my butt in the gym and that's difficult because we were filming 12 to 15 hour days. I can definitely say that after my last shirtless scene, as soon as I wrapped, it was a huge celebration. I went out and had desert for the first time in a while, and I took few days off of the gym.
Young teen fans are crazy about this young, hot actor and while Lautner loves his fans they can sometimes get a little out of control. Lautner tells the story of a moment he will never forget regarding fans, "Kristen and I were doing interviews in a hotel in Brazil and all of a sudden our security barges in and locks the door. We're like, 'What's going on?' And they said, 'Remain calm, but about 2,000 girls just broke through the hotel lobby and they're on their way up the stairs to get to this room.' Then they went, 'But it's OK because we have the National Guard on their way.' And the National Guard actually did show up and everything was fine."
Lautner has been busy with the filming of "Twilight" movies, promoting them, and filming other films. He hasn't had any down time in awhile and is looking forward to it. He expresses, "When you're working so hard, the number one thing you want to do is wake up in your own bed and do absolutely nothing. You just want to sit on the couch all day. I have not been on vacation I think in, like, four years."
No worries, he was able to get a bit of down time while promoting the film in Australia, "When I went to Australia, I went shark diving. It was crazy. It was called 'extreme' shark diving because even though we were in cages, we literally could touch the sharks swimming by. They were huge and I'm terrified of sharks. Then I went to a wildlife park and held kangaroos. That was nice."
Wondering why another "Twilight" star receiving attention? Is Ashley Greene More Popular Than She Should Be?